Payment Options 
You can pay for your books in various ways, if you have any questions please contact us and we are only too happy to help.
Payment can be by PayPal, Credit / Debit Card via Phone/email, Debit Credit Card handled by PayPal, Google Wallet, Direct Bank Transfer, Cheque, Postal orders or Cash.
PayPal
PayPal payments are the most common payment type, for this you will need to have (or set up) a PayPal account. At checkout you will automatically be taken to the PayPal login page. Enter you login details, and you will see the purchase summary before agreeing to payment. For your reference our PayPal address is [email protected] 
Credit / Debit Card (via phone or Email)
If you wish to pay by Credit or Debit Card then this can be done over the phone or providing your card details via email. We shall require your card details and the full address (with postcode) where the card is registered. Select the "Credit Card by Telephone" option at checkout
Credit / Debit Card (via PayPal)
If you wish to pay by Credit or Debit Card then this can be done using the Credit / Debit Via PayPal checkout option.  You do not need a PayPal account, and it is a secure method of paying us using your Credit / Debit Card.  When you are taken to the PayPal login page below the PayPal login box, you will see "Pay with credit / debit card" link.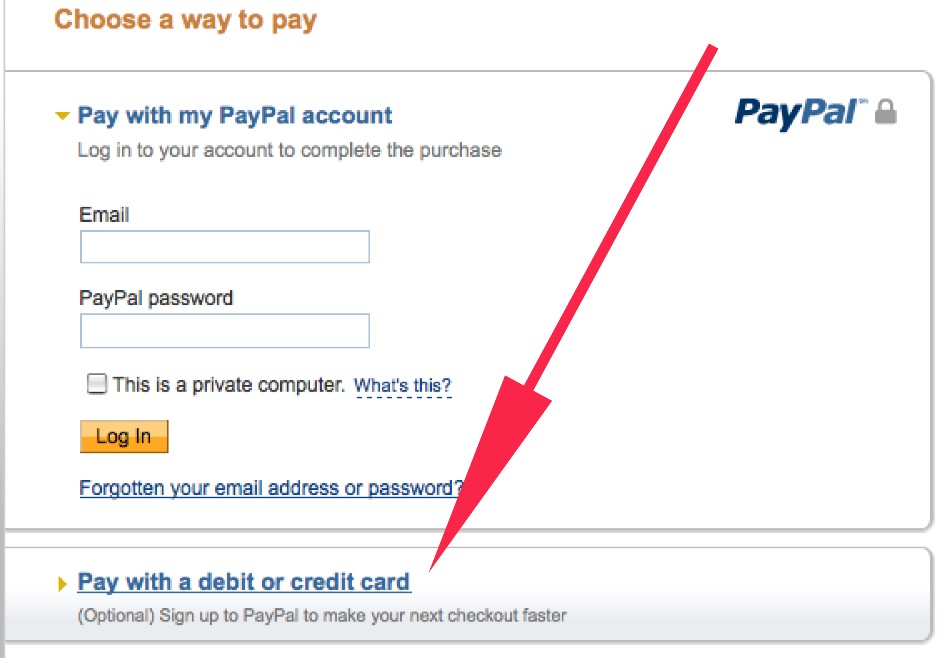 Click the link to be taken to a page to enter your details and your card details, then click "Review and Continue" or the "Pay" button
to complete your transaction.  If using debit or credit card we can also send a PayPal invoice, simply request this at check out or email us directly on [email protected] 
Bank Transfer
Payment can also be made by direct bank transfer please email us and we shall forward our bank details to you. 
Cheques
We accept cheques in GBP sterling drawn on a UK bank payable to "Ian Morley". We shall bank the cheque within two days and send out your item as soon as our bankers confirm clearance.
Postal Orders
We also accept UK Postal Orders Crossed and made out to Ian Morley.  
Cash
We will accept Pounds Sterling Cash but this is sent at sender's own risk, we do not recommend this method of payment. However if you are to use cash payment please send it by signed for delivery.  Confirmation will be provided on arrival, and no change is returned.
Please note all books remain the property of Ian Morley (t/a Durdles Books), and no books are despatched until payment in full has been made and all funds have cleared. 
PLEASE NOTE: Overseas customers can only pay by PayPal, Credit Card / Debit card via Paypal, or direct bank transfer. All payments must be in Pounds Sterling.